In 2019, FUTURES was invited to participate in a collaborative exchange hosted by Right to Play Pakistan.  Participants included a small group of leaders from U.S. based girls' and youth empowerment through sport organizations as well as Pakistani organizations using or interested in using sport as a strategy to empower girls and young people. Women Win served as the exchange program lead.  The Exchange created the opportunity for participants such as FUTURES to: 
Reflect on learnings from site visits in relation to our own leadership and work;
Learn how organizations & institutions are designing and delivering prevention oriented services focused on girls' rights education & personal empowerment through sport;
Explore delivery of trauma-based sport programming for girls;
 Explore ways to improve the attitudes of boys and men related to masculine identity and GBV through sports;
Strengthen ties between individuals working on issues of GBV in Pakistan and the United State
A Window Into Pakistan's Journey To Equality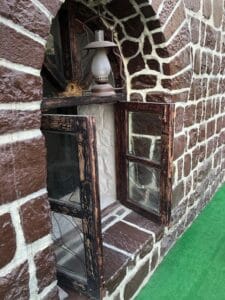 In December of 2019 I had the honor to travel to Pakistan as part of a United States-Pakistan collaborative exchange hosted by Right to Play Pakistan. Participants included a small group of leaders from U.S. based girls' and youth empowerment through sport organizations as well as Pakistani organizations using sport as a strategy to empower girls and young people. Women Win, a global leader in girls' and women's empowerment through sport served as the exchange program lead with support from the U.S. Embassy in Pakistan. This valuable exchange provided us with a window into the aspirations and struggles of some of the young women and girls in Pakistan, leaving us a bit more optimistic about its future, and a lot closer to its people.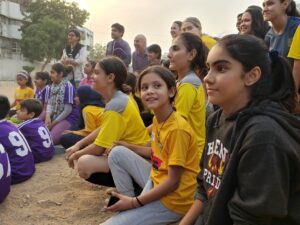 On the grounds of a government run school in Karachi we witnessed the power of sports in instructing about fundamental rights. The game seemed simple at first, try to run across the courtyard while protecting the small "right to play" headband hanging on your shoulder, and don't let anyone take it.
This simple game was a powerful and visual reminder of how difficult it is to advance in any field if there are mechanisms in place designed to block you along the way. A few of the more agile girls were able to make their way thru but most failed and what remained were red headbands, rights lost, sprawled on the concrete school yard. When the instructions were altered to allow many to cross the courtyard at the same time, a strategic change took place among the players. Without collaboration, they instinctively realized that if they help each other protect the player carrying the headband many more of them would cross with success.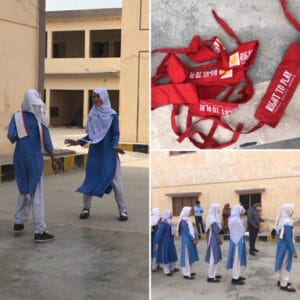 The lesson was simple yet poignant, and just one example of the great work undertaken by Right to Play Pakistan, our exchange host organizations. Their simple instruction was followed with a brief conversation about rights and opened our minds to the innovative ways that sports can be used to transform communities. We were given a window into the everyday work of equality and justice advocates, and saw the transformation and beauty of the people of Pakistan with every visit and conversation. The view was beautiful and inspiring.
From a gravel filled pitch in a park to a boxing ring in Karachi's Lyari district young girls were defying social norms with courage, self-determination and pride and challenging themselves to excel at their chosen sport. Whether using a paddle to put on the perfect spin on their serve or putting on a helmet to make sure they adhere to safety measures before their cycling session, they paid close attention to the requirements of their sport and instructions of their coaches, took nothing for granted, seized every opportunity to improve, and yes even sent a message to a world which may not seem to take their efforts seriously or misjudge their community.
Wherever we stopped to visit we noted that these girls, these aspiring athletes, took time to greet us with open arms and embraced us with a humble yet confident disposition. They cherished even the smallest token that we could share from our homeland and were eager to share theirs with us. Their chosen sports varied but their message was one, that their nation is filled with people who love life, want to contribute to the advancement of humanity and welcome the opportunity to exchange ideas on how to make this world a better place, starting with advancing rights for girls, and yes, including men in this effort. It was these fierce voices of young women and girls that reminded me that we were in a land that elected the first female Prime Minister, Benazir Bhutto, in a Muslim-majority country, and home to the youngest Nobel Prize laureate, Malala Yousafzai and her father Ziauddin Yousafzai, an advocate of girls' education.
At FUTURES we have been asking the question of what men can do to help end violence against women and girls for over a decade. In response we have created several programs to involve men in preventing violence against women, such as our Coaching Boys Into Men program.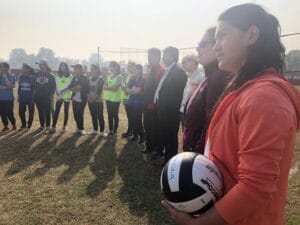 So one of the most promising features of the US – Pakistan exchange was meeting some of the men who were leading by example and using their positive influence and privilege as men to challenge the attitudes and beliefs that are barriers to the progress of women and girls. Next to many of the determined and courageous young women and girls whom we met during our visit stood a coach, a mentor, a brother or a father. Their roles varied but their message of support and encouragement came through unapologetically and without condescension.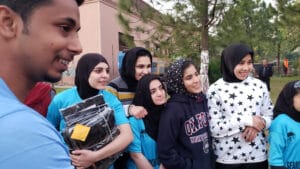 Younus Qambrani defied a male dominated sports community and opened his boxing club to fearless girls, teaching them the fine art of jabs, uppercuts and hooks and in the process instilled in them confidence and determination. What propelled him to lead in this groundbreaking work were his own daughters who wanted to be part of an illustrious family of boxing champions and a plea from a young girl who reminded Qambrani that "no one teaches us to defend ourselves."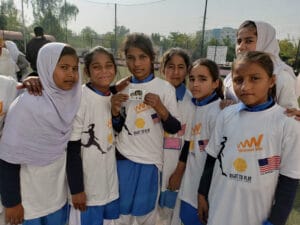 In the beautiful Bahria Enclave in Islamabad one can find young men who are champions of equality. They participate in a program called Humqadam, meaning a companion who walks alongside. Designed by Rozan, an Islamabad NGO, Humqadam creates spaces for men to engage on the issue of violence against women. It explores alternative and healthier models of masculinities with a focus on involving men and boys in stopping violence against women. image-8-youth-soccer-girlsWhen we asked these young men why they are participating in the Humqadam program they offered that without such learnings they would not be able to function properly in society and that it is their duty to learn and share with other young men.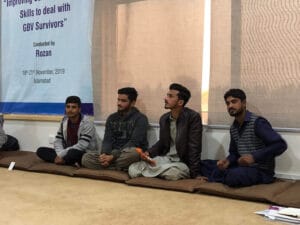 It was perhaps fortuitous that our delegation was present during the inauguration of the Girls Cycling Squad in the Fatima Jinnah park on a sunny December morning. Captain Samreen Khan who has been cycling over 3 years initiated this project as a means of helping empower more girls in her country and to challenge the stereotypes of girls riding. Through this program girls gain confidence, develop healthy habits, and get to experience the freedoms provided by a simple mode of transportation.
While the presence of men at this event was the most visible we had witnessed, and for some signaled a patriarchy uneasy with making room for women led sports initiatives, it also highlighted the supportive role played by some of the fathers who had accompanied their daughters to this event.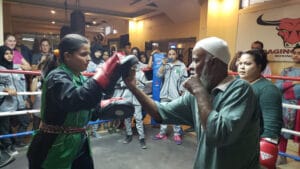 Finally, we had the privilege of meeting a young man, Absar Ali, whose organization, the Absar Welfare Foundation and Search of Pearls sport and empowerment program helps identify and train young women and girls to compete in table tennis all the while gaining confidence and strengthening their resolve to find constructive ways out of unsafe home environments.
The window into Pakistan helped me recognize all that unites us, our common humanity, our collective will to overcome challenges, and our unified commitment to advance equality in order to help create a more just and safe society where all may be able to realize their full potential.