2-3-23 | Leila Milani, Program Director, Global Policy and Advocacy
For Dancing in the Streets
In November of 2022, as part of a symbolic act to stand up for freedom, a young couple in their early 20's, Astiyazh Haghighi and her fiancé, Amir Mohammad Ahmadi, took a video of themselves dancing in front of the Azadi (freedom) Tower in Tehran.  The video went viral.  On January 31, 2023 they were sentenced to 10 years and six months imprisonment each, for dancing in the streets and for not wearing the proper head covering.
The demonstrations which began over four months ago in Iran, in an effort to bring justice for the death of 22 year old Mahsa Amini, have captured the world's attention. Artists, activists, politicians, and people from across the world have joined in the choir of woman, life, freedom, donned the colors of Iran's flag, participated in the symbolic cutting of strands of hair, and performed moving artistic renditions of the struggles of the people of Iran. 
There is great value in these heartfelt acts and gestures of solidarity and support. They undoubtedly have provided some semblance of consolation for the people of Iran.  These acts should not be stopped.  However, they are not enough.
The Islamic Republic of Iran is shameless in its unapologetic and brutal attacks against its own citizens. From sentencing young couples to 10 years of imprisonment for dancing to handing down death sentences, the IRI has tried to quash any acts of dissension and close off both the public and private space of discourse. To date, four protestors have been executed and according to independent human rights organizations, 110 protestors are under the impending threat of death sentences.
We can't just stand by and watch as these death sentences are carried out and young voices of dissent are silenced forever. What is needed now, more than ever, is a strategy that sends a message to Tehran, that democracies across the world will not stand by and watch this regime's violent suppression of its citizens.  This strategy can cover everything from the sanctioning of perpetrators of human rights violations, to revoking entry, study and business visas from family members of responsible Iranian officials, to a unified diplomatic front in expulsion of the IRI from key international forums, and capitals. As the IRI has suffocated the public space for discourse and civil society engagement for its citizens, the world too must respond by limiting access to the global space for the perpetrators of these violent crimes and their families. 
#stoptheexecutions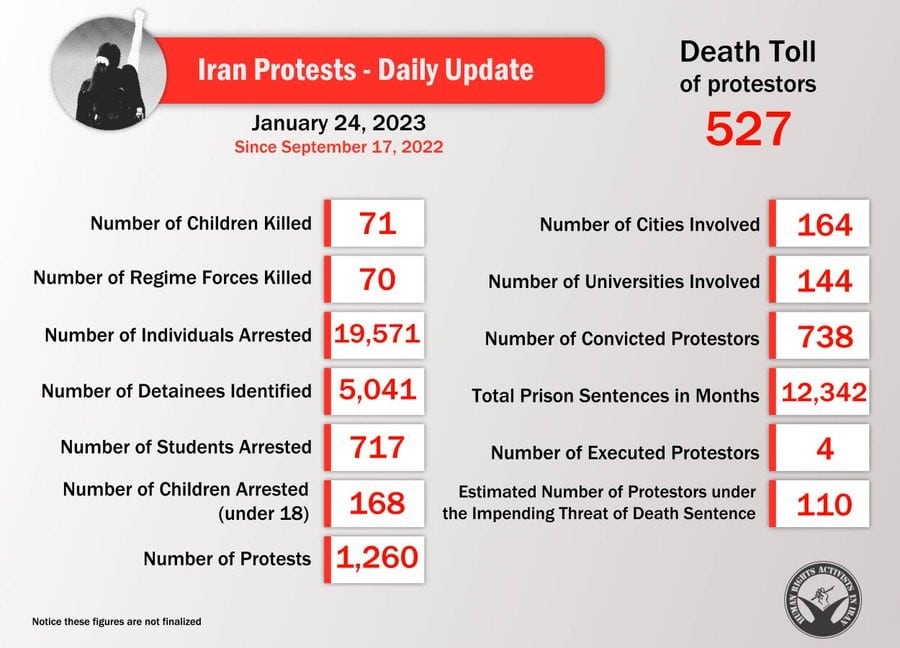 Human Rights Activists in Iran